Sad news this past week as Hayao Miyazaki announced at a conference on September 1st that he was retiring from the animation world. The release of "The Wind Rises" will mark his last film. He was the co-founder of the animation company Studio Ghibli in 1985 and has been animating under that label ever since. His son, Gorō Miyazaki, started to take over his father's acting direction in 2006 with the release of "Tales from Earthsea" and 2011's "From Up On Poppy Hill." Hayao's 2001 blockbust "Spirited Away" still holds the top spot in Japan as the top grossing film of all time.
In August 1996, Disney and Tokuma Shoten Publishing (English dubbed the films from the late1980's-2001) agreed that Disney would distribute international Studio Ghibli animated films. As of September 2011, Disney holds the rights for all Studio Ghibli theatrically released films in Northern America.
I personally watched "Kiki's Delivery Service," "Laputa" (Castle In The Sky), and "Lupin the 3rd: Castle Of Cagliostro" on VHS in 1990 when we had a Japanese exchange student stay with us. He translated the Japanese to English for us. That is why all these films are special to me.
Which is your favorite Hayao Miyazaki film?
•Hols: Prince of the Sun (1968)
•The Wonderful World of Puss 'n Boots (1969)
•Flying Phantom Ship (1969)
•Moomin (1970)
•Animal Treasure Island (1971)
•Ali Baba and the Forty Thieves (1971)
•Lupin III Part I (1971)
•Yuki's Sun (1972)
•Panda! Go, Panda! (1972)
•Panda! Go, Panda!: The Rainy-Day Circus (1973)
•Heidi, Girl of the Alps (1974)
•3000 Leagues in Search of Mother (1976)
•Future Boy Conan (1978)
•Anne of Green Gables (1979)
•The Castle of Cagliostro (1979)
•Lupin III Part II (1980)
•Sherlock Hound (1984)
•Nausicaä of the Valley of the Wind (1984)
•Castle in the Sky (1986)
•My Neighbor Totoro (1988)
•Kiki's Delivery Service (1989)
•Only Yesterday (1991)
•Porco Rosso (1992)
•Pom Poko (1994)
•Whisper of the Heart (1995)
•On Your Mark (1995)
•Princess Mononoke (1997)
•Spirited Away (2001)
•Whale Hunt (2001)
•Koro's Big Day Out (2002)
•Mei and the Kittenbus (2002)
•Imaginary Flying Machines (2002)
•The Cat Returns (2002)
•Howl's Moving Castle (2004)
•Monmon the Water Spider (2006)
•House-hunting (2006)
•The Day I Harvested A Planet (2006)
•Ponyo (2008)
•Mr. Dough and the Egg Princess (2010)
•The Secret World of Arrietty (2010)
•From Up on Poppy Hill (2011)
•The Wind Rises (2013)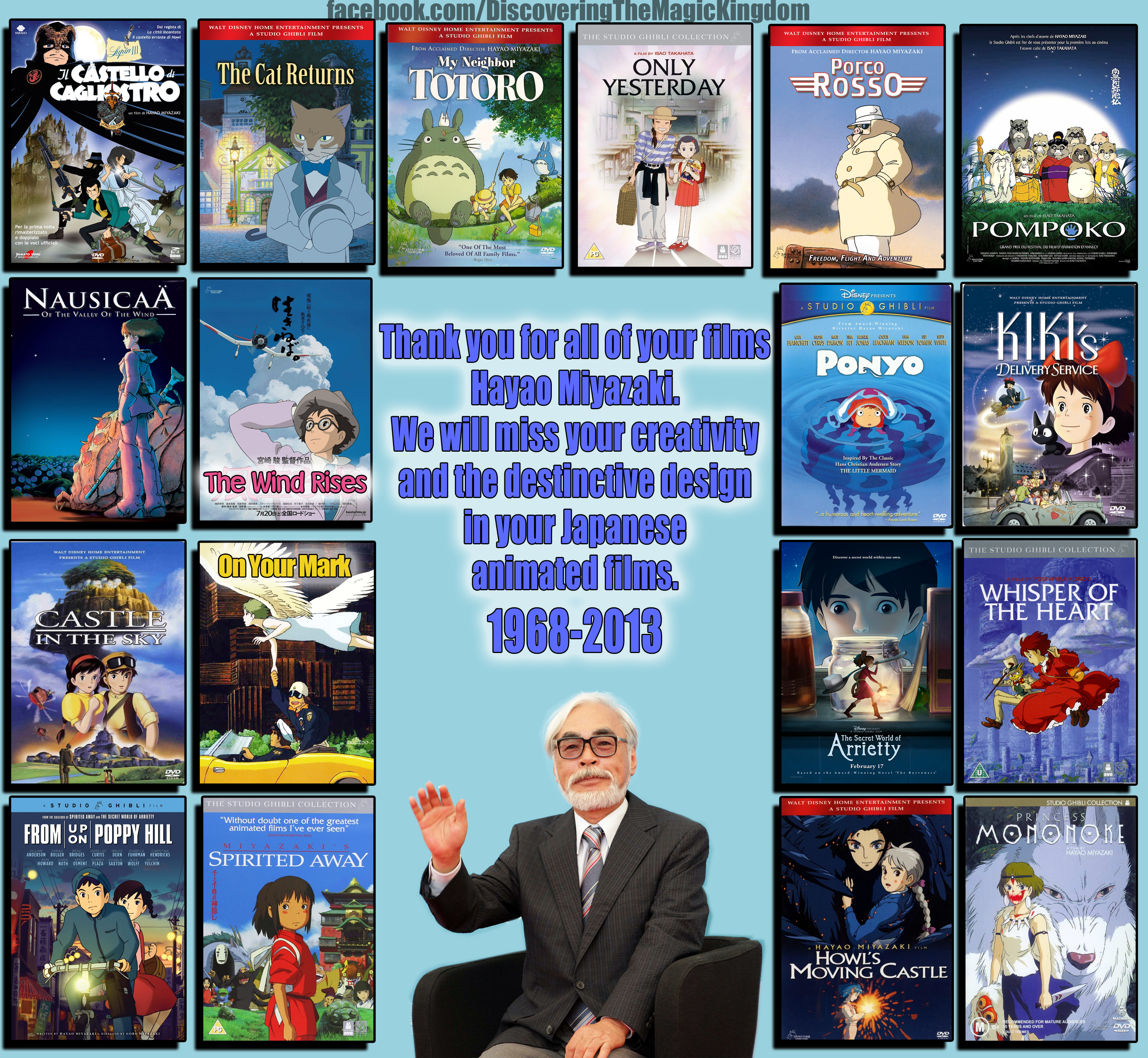 Categories: Disney News