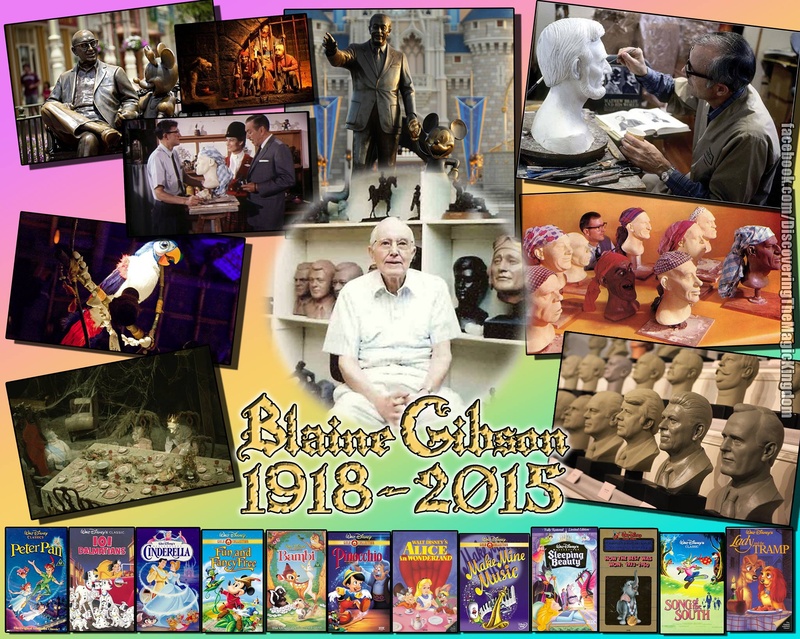 I am sorry it took me so long to write up this post, but I wanted it to be as perfect as I could get it. Disney lost a great man and artist last week and I wanted this to do him justice.
Gibson, Blaine – Born February 11, 1918 in Rocky Ford, Colorado – Died July 5, 2015. Blaine began drawing, sculpting and whittling at a young age. He would get clay from a nearby river to sculpt and his mother would fire the clay in the kitchen stove. At the age of 12 he sculpted an elephant out of a bar of soap and won $10 in a contest held by Procter & Gamble (P&G). At 21 years old, Blaine became an animator for Disney, and then later a sculptor. Blane did visual effects and character animations for films such as; Pinocchio (1940), Fantasia (1940), Bambi (1942), Song of the South (1946), Fun & Fancy Free (1947), Cinderella (1950), Alice in Wonderland (1951), Peter Pan (1953), Casey Bats Again (1954), Lady and the Tramp (1955), Sleeping Beauty (1959), Goliath II (1960), and 101 Dalmatians (1961). He ended up becoming an Imagineer when Disneyland broke ground after Walt had seen some of his animal sculptures in 1954. Blaine worked as an animator and Imagineer until he became a full-time Imagineer in 1961. He created hundreds of sculptures that were turned into audio-animatronics or bronze statues used at the World's Fair and in the Disney theme parks. He sculpted the face of Abraham Lincoln for Great Moments with Mr. Lincoln, the pirates on Pirates of the Caribbean, the ghosts in the Haunted Mansion, and the tiki birds in The Enchanted Tiki Room. He was the lead director for the Hall Of Presidents project for Disney World and had a hand in creating all the presidents up to George W. Bush in 2001.
After nearly 45 years working for the Disney Company, Blaine retired. He did however stay on as a consultant after that for attractions like The Great Movie Ride in Disney's Hollywood Studios. In 1993, he temporarily came out of retirement to create the bronze "Partners" statue that sits in the center of Disneyland and Magic Kingdom in front of the castles. He also made one of Roy O. Disney sitting with Minnie Mouse on a bench. In his career, he mentored and inspired many Imagineers and sculptors in the Disney Company. He became a Disney Legend in 1993.
Categories: Disney News, Disney History, Discovering The Magic Kingdom