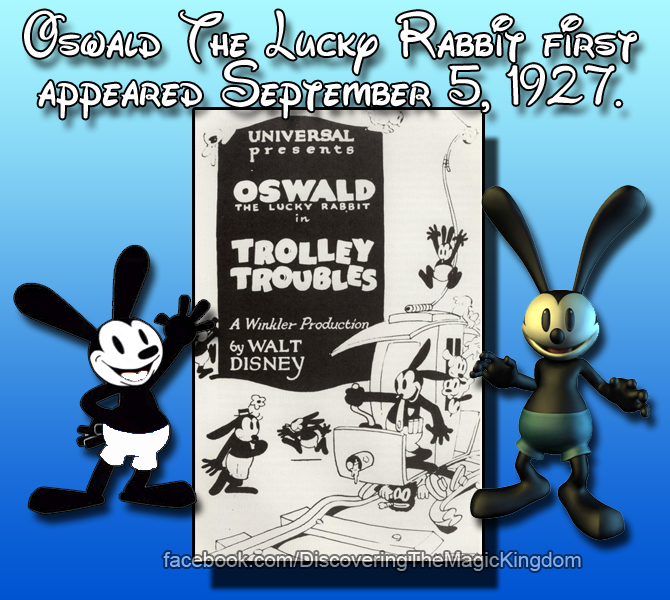 Where did Oswald come from? From 1923 to 1927 Walt and his fellow animator Ub Iwerks were animating a series called Alice Comedies for Winkler Pictures, which was run by Margaret Winkler (the first woman to produce animated films, and was the producer for the animated series of Felix The Cat) and her fiancée Charles Mintz, who was later Walt's producer. Due to the higher costs of producing the Alice Comedies, Walt and Ub Iwerks were asked to design a new cartoon character to sell to Universal Studios who wanted to delve into the world of animated series production. Because of this, Walt and Ub came up with Oswald The Lucky Rabbit. Oswald was the first cartoon series produced by Universal Studios.
Oswald's firs appearance was supposed to be in the short Poor Papa in 1927. Universal didn't like how the film turned out and said it was poorly animated and Oswald looked too old, so they turned it down. Ub touched up Oswald and made him look younger and along with Walt made a second film which was released September 5, 1927, and was called Trolly Troubles. Poor Papa was released August 13, 1932, but was renamed Mickey's Nightmare and ended up starring Mickey Mouse instead of "old Oswald." Oswald went on to star in 194 animated shorts between 1927 and 1943. He was voiced by many voice actors including Bill Nolan (1929), Pinto Colvig (voice of Pluto and Goofy) (1930–1931), Mickey Rooney (1931–1932), Bernice Hansen (1932-1938), Walter Lantz (1935), June Foray (1943), and in the video games, Frank Welker (2010–present). Until October 14, 1929, with the release of Cold Turkey, Oswald was a silent film character.
After creating 26 animated films with Ub, in spring of 1928, Walt traveled to New York to see his producer Charles Mintz to renegotiate his contract with Winkler Pictures. The times were hard then and the economy was in decline. Walt wanted a raise and Charles wanted to cut him 20%, along with the other animating staff. That is when Walt decided to quit while the rest of his staff opted to stay. On the train ride home from New York , Walt came up with the idea for a little cartoon mouse called Mortimer. Walt shared this idea with his wife Lillian, who didn't like the name Mortimer and suggested calling him Mickey. Walt and Ub worked in secret to create the first Mickey Mouse cartoon with Walt as the director and Ub as the animator who molded the character of Mickey Mouse to star in his first film, Plane Crazy, but it was a silent film. They then released Steamboat Willie on November 18, 1928. At this point Mickey Mouse skyrocketed past Oswald The Lucky Rabbit in popularity to become the most iconic animated character of all time.
After the cancelation of his animated shorts, Oswald began starring in comic books published by DC Comics (Superman, Batman, Wonder Woman, Green Lantern, the Justice League) from 1935 until the early 1960's. He even starred with Woody Woodpecker. Oswald was published in 201 comic books before his discontinuation with DC Comics. Through the end of the 20th century other comic book companies from Italy and Mexico were responsible for his comics.
In 2006, Disney was able to call Oswald back home to his Disney family and introduced him to everyone in January 2007, with a T-shirt line from Comme des Garçons (a Japan based clothing design company) and would be the first Oswald merchandise. The following December, Disney released a two-disc DVD set titled The Adventures of Oswald the Lucky Rabbit, in the Walt Disney Treasures collection that contained 13 episodes from 1927-1928. In 2010, Oswald showed up in the popular video game Epic Mickey. Disneyland didn't see Oswald until the entrance to California Adventure was closed down in 2011 to turn it into Buena Vista Street, he was on the "under construction" walls. When Buena Vista Street opened in July 2012, Oswald had his own gas station themed shop called Oswald's Service Station. Oswald is kept primarily in California Adventure as Mickey mouse is in Disneyland. On September 14, 2014 (nine days after his birthday), Oswald showed up as a meet-and-greet character on Buena Vista Street in California Adventure.
Categories: Disney Trivia, Disney History