There are many different types of pins. Each pin is valued differently. Try to do your research online before making a trade to find the value of a pin. These are the most common types of pins.
* Cast Exclusive Pin / Cast Lanyard: Cast Exclusive pins are only available for Cast Members to purchase backstage, whilst Cast Lanyard pins are given to Cast Members to place on their lanyards to trade with guests.
* Chaser Pin: These pins are rare and induce a "chase" to find them. They look like a pin from a set of pins but it isn't colored in. It is just metal. (see photo)
* Dangle Pin: A pin with extra metal elements dangling from the pin by one or more loops or chains. (see photo)
* Embedded Pin: These pins generaly have jewels or hard plastic pieces, like a rose that Belle holds.
* F.R.E.E.-D Pin: Free-D stands for "Fastened Rubber Element for Extra Dimension." A pins that feature Free-D elements sometimes have discoloring issues and extra precautions should be taken to make sure that the Free-D element is not dirtied.
* Glow Pin: These pins will glow in the dark after being exposed to light or blacklight.
* Hidden Mickey Pin: These pins have a little Mickey Head somewhere on them. They are usually part of a set and will say 1 of 6, 2 of 5, etc. Generally they are sold through "Mystery Packs," but can then be found through trading with other park guests, Cast Members, or on online auctions. (see photo)
* Hinge Pin: This pin has an element on it that has a little hinge to open the whole face, or just part of the pin. (see photo)
* Jumbo Pin: These pins are very large in comparison to the other pins. They can be three to six big.

* Lenticular Pin: This pin has two or more images that can change when it is tilted back and forth. (see photo)
* Light-Up Pin: A pin featuring one or more flashing LED elements activated via a small button.
* Limited Edition Pin: A special pin produced only in limited amounts. The amount and pin number will usually be printed on the back. Generally they will limit you to a certain amount while perchasing.
* Musical Pin: A pin with a button or switch-activated musical element.
* Mystery Pack Pin: A new series of pins whereby the only way to purchase the limited releases is through special 'Mystery Pack' boxes or bags. Guests do not know which pin they will receive. Duplicate pins can then be worn on lanyards to trade. Some mystery pins are only available to purchase with another purchase of $30, or similar value.
* Open Edition Pin: A standard pin with no limited edition value.
* Piece Of Disney Movie: This pin frames a cut of film strip from a peticular movie.
* Piece Of History Pin: At Walt Disney World a series of pins were produced featuring an attraction along with a piece of the attraction, that was removed either during refurbishment or when the attraction was dismantled. The piece of the attraction (which could be a splinter, cut of fabric, crushed plastic, or something else) is secured in a little bubble on the front of the pin. (see photo)
* Pin-on-Pin: A pin with an additional layer, or layers, of metal design on top of the main backing piece, used for 3D effect. (see photo)
* Rack Pin: This is another name for the "Open Edition" pins.
* Slider Pin: A pin with a moveable element that can slide back and forth or pivot across the pin. (see photo)
* Spinner Pin: A pin with an additional element that can be rotated 360°. (see photo)
* Spring Pin: This pin has an element on it that is like a "pin-on-pin" except it is attached with a tiny spring which causes the attached part to bounce around with movement. (see photo)
* Surprise/Mystery Pin: A pin released without first being announced on the official release schedules. Some are part of a special 'Mystery Pins' series, released periodically throughout the year.
* Vinylmation Pins: The Vinylmation pins are designed after the Vinylmation figures that you can purchase in the parks. Most of them are like the regular metal pins, some of them are raised with the vinylmation figures mounted on the front to give them the 3D appearance. They are generally released in a collection series. There are over 600 different designs so far. (see photo)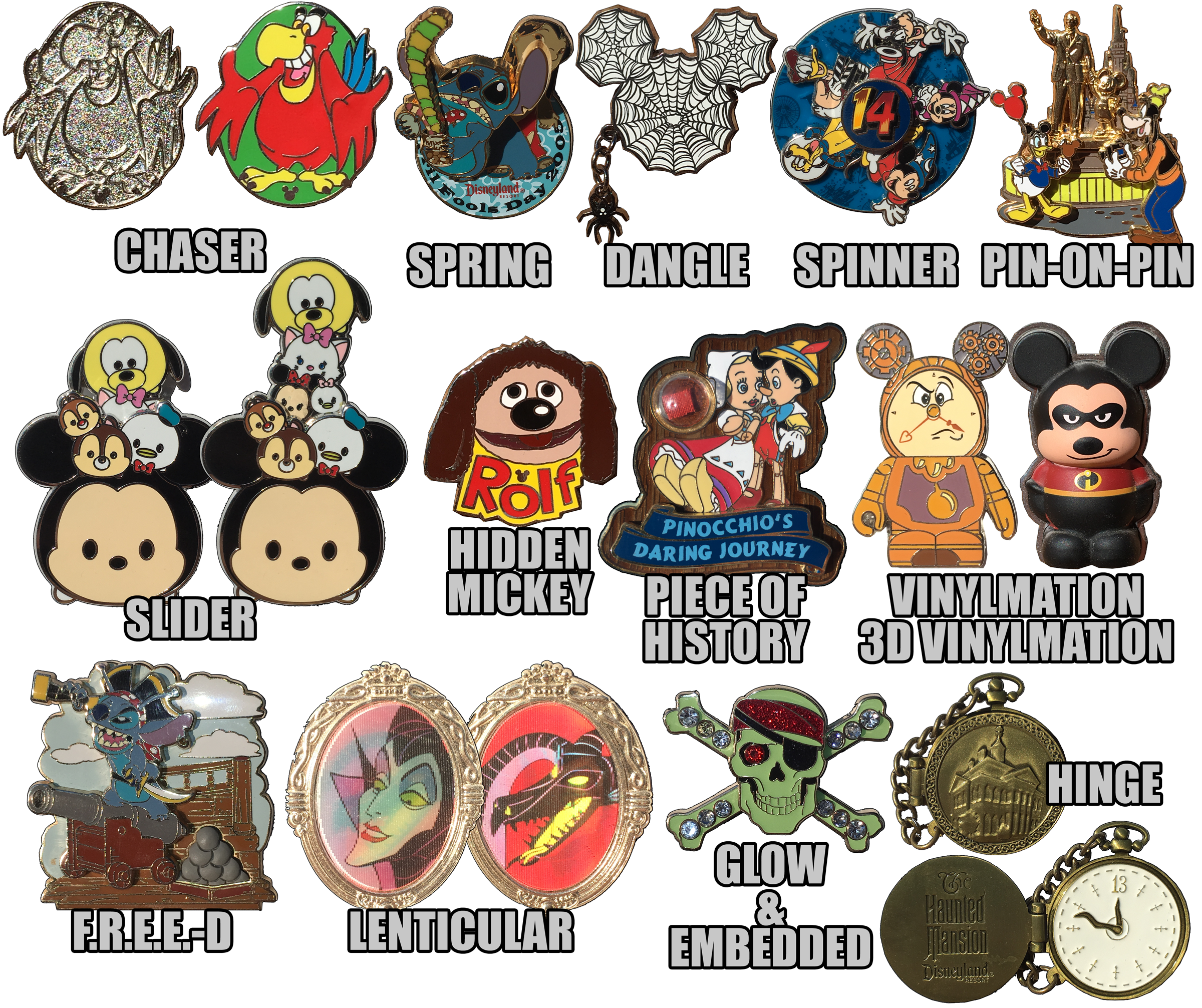 Categories: Products