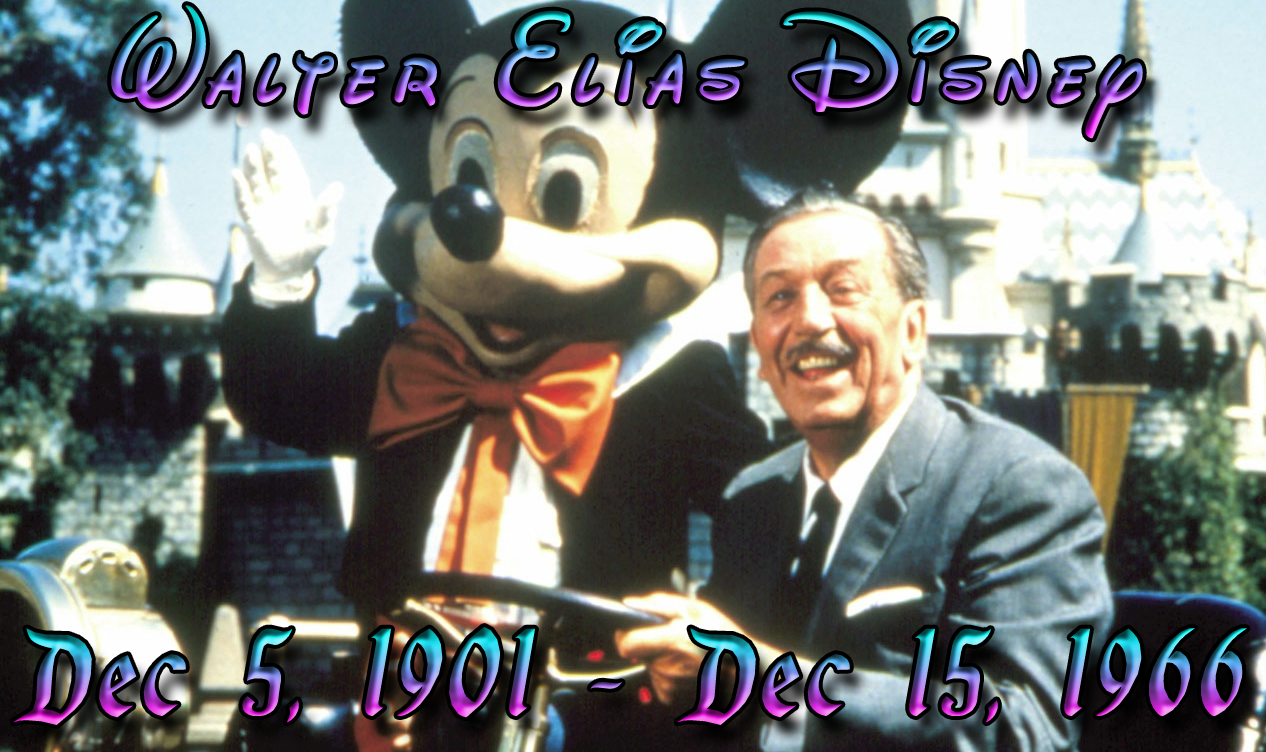 Today marks the 50th anniversary of the death of one of the greatest men of our time, Walt Disney. He lost a battle to lung cancer from his chain smoking on December 15, 1966, at 9:30 am.
Here is some information you may not have known about Walt's last days.
1. The last time Walt was seen on TV was for the opening dedication of New Orleans Square on July 24, 1966.
2. The final productions in which Disney had an active role were the animated feature The Jungle Book and the live-action musical comedy The Happiest Millionaire, both released in 1967.
3. Pirates of the Caribbean was the last attraction Walt personally worked on, besides concepts, which went on with the company decades into the future.
4. EXAMPLE: Imagineer Herb Ryman was working on concept sketches for the park in 1954 and came up with a land called True Life Land, which was named for Disney's True Life Adventures (1948-1960) series. It was going to be modeled after New Orleans with a pirate theme. There was to be a shipwreck with overflowing treasure chests, a store/restaurant called Pieces of Eight, and a store/restaurant called Blue Beards Den. This was to all be added onto Frontierland. This concept all predates Disneyland, but shows that Walt had an interest in adding pirates to his park. Walt's dream of a completely themed pirates land wouldn't be realized until the construction of Treasure Cove in Shanghai Disney, which opened June 16, 2016.
5. The only scene Walt saw completed from Pirates was the auctioneer scene. The Imagineers had set up the whole scene in the studio and put a wooden bench on wheels to push Walt through the scene at the proper pace.
6. They told Walt the studio was pushing them for a December opening. Walt asked if they would have it done by then and they said they didn't think it would be perfect by then. Walt then told them not to approve the opening until everything was perfect, even if it took longer to complete.
7. On Walt's last visit to the studio to check out the Pirates project, he visited Marc Davis to look over the concept art for The Country Bear Jamboree. Marc said that Walt stayed as long as he kept showing him artwork. He could tell there was something wrong with Walt. The last thing Walt said to Marc was "good bye," which was odd because he always said "see you later" or "keep up the good work."
8. On November 2nd, Walt had an x-ray done revealing a tumor in his left lung. The doctor gave him six months to two years to live. He had a two week stay in the hospital and was able to return home for Thanksgiving.
9. Walt didn't want people to know he was sick, so he blamed his doctor visits on an old polo injury.
10. He was admitted to the Providence St. Joseph Medical Center across the street from the Disney Studio on November 30th after he collapsed in his home.
11. He could see the Disney Studio across the street. Roy had ordered that the lights in the facility remained on so Walt could see it.
12. A long-standing urban legend maintains that Disney was cryogenically frozen, and his frozen corpse was stored underneath the Pirates of the Caribbean attraction in Disneyland. However, this was discredited due to the fact that Disney was cremated, and the first known instance of cryogenic freezing of a corpse (of Dr. James Bedford) occurred a month later, in January 1967.
Categories: Disney Trivia, Disney History