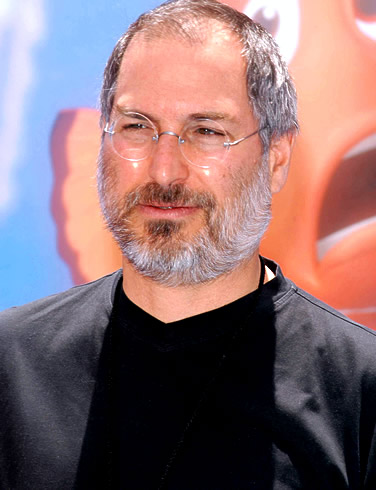 R.I.P. Steve Jobs. Thank you for making Pixar what it is today and creating all those films that will be with us forever.
Steve Jobs passed away yesterday (October 5th, 2011) from cancer. He was born February 24th 1955 in San Francisco. He leaves behind his wife and four kids. It was estimated that at the time of his death his net worth was over $8.4 billion.
Here is a clip from my chapter on Pixar, page 74.

Pixar was founded as the Graphics Group, one third of the Computer Division of Lucasfilm that was launched in 1979 with the hiring of Dr. Ed Catmull from the New York Institute of Technology (NYIT). At NYIT, the researchers worked on an experimental film called The Works. When the group moved to Lucasfilm, the team worked on creating the precursor to RenderMan, called Motion Doctor, which allowed traditional cel animators to use computer animation with minimal training.
Evenually, the team began working on film sequences, produced by Lucasfilm, or worked collectively with Industrial Light and Magic on special effects. After years of research, and key milestones in films such as "Star Trek II: The Wrath of Khan" and "Young Sherlock Holmes," the group was purchased in 1986 by Steve Jobs shortly after he left Apple Computer (the company he founded with Steve Wozniak). He paid $5 million to George Lucas and put $5 million as capital into the company, and the Computer Division was renamed Pixar, a fake Spanish word that means "to make pictures", "to make pixels". A contributing factor to the sale was an increase in cash flow difficulties following Lucas' 1983 divorce, which coincided with the sudden drop off in revenues from Star Wars licenses following the release of "Return of the Jedi" and the disastrous box office performance of "Howard the Duck". The newly independent company was headed by Dr. Edwin Catmull, President and CEO, and Dr. Alvy Ray Smith, Executive Vice President and Director. Jobs served as Chairman and Chief Executive Officer of Pixar.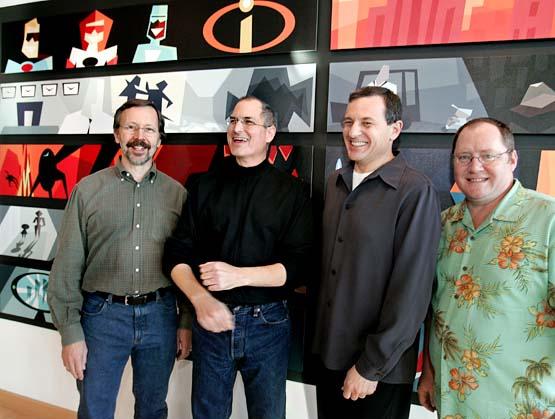 (Pixar's Ed Catmull (left), Pixar CEO Steve Jobs (center left), Disney CEO Robert Iger (center right) and Pixar's John Lasseter.) Photo from 2006
Categories: Disney News